Latest News
August 13, 2011
FIFA 11 Survey (prizes in store!)
In our FIFA 11 Survey, which has been drafted by FIFA 4 LIFE Forum, we are interested in your opinion about FIFA 11 and the FIFA series in general. Besides questions concerning the new features in FIFA 11 such as Personality+ and Be a Goalkeeper, it concerns also the online mode, bugs and the difficulty levels. Furthermore we would like to have your rating concerning the new functions announced for FIFA 12 such as Impact Engine and Pro Player Intelligence. At the end of the survey you have the opportunity to name your wishes and your ideas to improve future FIFA series.

We would be pleased if you find time (about 10 to 15 minutes) to participate in the survey. The survey results will be sent directly to EA. Therefore it is an unique opportunity to let EA have your opinion as to FIFA 11 and the FIFA series in general and thus influence the evolution of the FIFA series.

Among all participants with an address in Germany, Austria or Switzerland we cast attractive lots consisting of EA merchandising articles, which EA kindly put at our disposal.

The deadline for entries is 9 September 2011 at 23:59 o'clock.

Please follow this link to participate in the survey :
http://surveys.fifacentral.net/index.php?sid=58893&lang=en

On the picture below you may have a look at the prizes: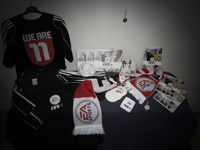 Thank you for participating in the survey !
Comments are deactivated.
Go to Jamaica... by quorik
Cheap Football shirts... by easton
Your favourite club?... by jelarde
FIFA football kits 2013/1... by easton
PC game store... by husseyray
Newcastle United vs.Manch... by BeckyRosenberg
Juventus vs AS Roma Kick ... by BeckyRosenberg
Welcome Thread for new me... by vaisakh
Manchester United vs. Tot... by BeckyRosenberg
FIFA 14 Coins 10% Giveawa... by fifaxmas

1. Creation Master 08
2. FIFA 08 Mega Patch!!
3. FIFA 09 Demo
4. Official FIFA 08 Patch
5. Player Details Patch
6. Anti-Jerking Patch
7. Sponsor Patch
8. Armband Master 08
9. 2GK Kitraptor 1.5
10. FIFA 08 Music Changer

FIFA 08 Review by Gamespot
FIFA 14 Survey (prizes in store!)
Bundesliga Soundpatch v1
FIFA 09 released!
FIFA 09 Demo: Download now!!
FIFA Corner Forums launched!
FIFA 09 Cover presented
FIFA 08 Mega Patch!!
Spain is europeen champion!
FIFA Manager 09 Features
FIFA Corner online!

Who will win the Champions League?
Arsenal London

FC Barcelona

FC Chelsea

Manchester United

Total: 189968
FIFA 14 Downloads FIFA Forums FIFA 14 Patches FIFA Corner FIFA 14 News FIFA Worldcup 2014 Brazil FIFA Corner Forums FIFA Portal